Bloggin' on some more … !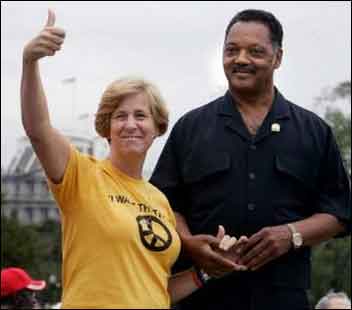 Anti-war protester Cindy Sheehan of Vacaville, California (L) gestures to supporters alongside Rev. Jesse Jackson as she attends a series of protests and marches to end the war in Iraq in Washington September 24, 2005. Tens of thousands of protesters gathered the nation's capital to support of Sheehan, whose son Casey was killed in Iraq and who held a vigil outside President Bush's Crawford Texas ranch in August. REUTERS/Jason Reed — From the IndyMedia photo collection . . . ANOTHER PHOTO BELOW:


Update [2005-9-24 19:29:51 by susanhu]:
AIR AMERICA – TURN IT ON NOW (Thanks, Shirl!)

With host Laura Flanders, 7-10PM, Sat (9-24-05)

"This weekend, we're live from the Washington Mall with sights, sounds, speeches and speakers from the historic anti-war march and concert. We'll also have live reports from Texas on Hurricane Rita. Poet Sharon Olds, who declined Laura Bush's invitation to join her at a big book fair, joins us. Also Dr. Ysaye Maria Barnwell of Sweet Honey in the Rock, Washington Wizard Forward Etan Thomas and many, many more. Call Us: 1-866-303-2270″


Update [2005-9-24 23:3:34 by susanhu]: New thread — #5! — at the top!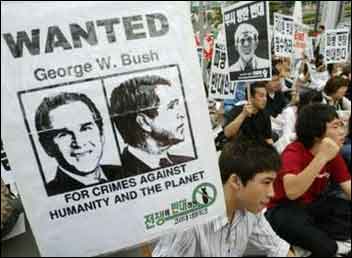 South Korean protesters shout slogans during an anti-war rally in Seoul September 24, 2005. The demonstrators were protesting were against the government's plan to extend the deployment of South Korean troops to Iraq. About 3,200 numbers of South Korean troops has been stationed in the northern Iraqi town of Irbil to help the reconstruction of the war-devastated county, local media reported. REUTERS/You Sung-Ho — From the IndyMedia photo collection