As is being discussed over at dkos, Libby sent a letter to Judy Miller in jail that is most bizarre & raises quite a few questions.
The letter courtesy of Thistime at dkos.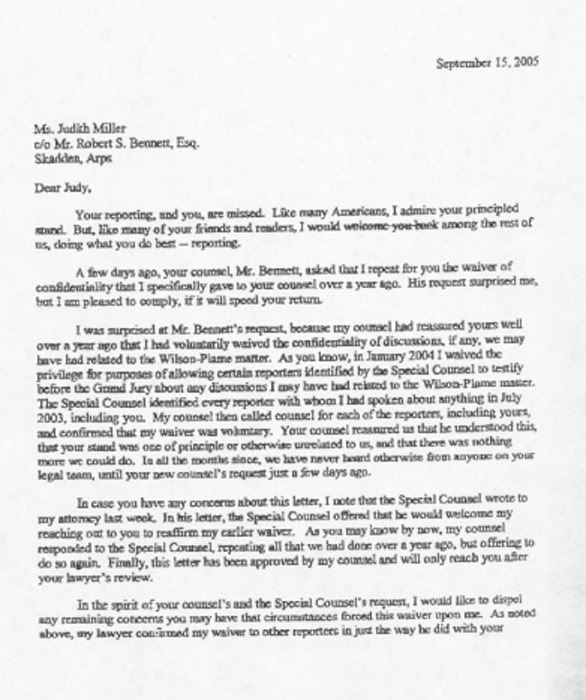 The whole letter is fascinating, but I want to focus on a couple of key parts.
the public report of every other reporter's testimony makes clear that they did not discuss Ms. Plame's name identity with me, or knew about her before our call.
So Judy told Libby she knew all about Valerie it would appear. Now just how would she have known about her? Was it from her "reporting" on WMD's? Was she in fact herself a source to others? Seeming more and more likely.
Then there is this bizarre (and frightening) closing –
"You went into jail in the summer. It is fall now. You will have stories to cover–Iraqi elections and suicide bombers, biological threats and the Iranian nuclear program. Out West, where you vacation, the aspens will already be turning. They turn in clusters, because their roots connect them. Come back to work—and life.
WHAT BIOLOGICAL THREATS THAT WILL NEED TO BE COVERED THIS FALL IS THE VICE PRESIDENT'S CHIEF OF STAFF REFERRING TO??? That's worrisome and demands an explanation.
Why on earth is he talking about aspens, clusters & where she vacations? This is truly weird. People at dkos are speculating that it's a code, and it could very well be, but whatever it is, it's odd.
Come back to work… so she does work for the White House. He's telling her to come back, not "go back" or "get back", but "come back". Nice freudian slip.
And what's up with the way that whole sentence flows… Come back to work — and life.?? Kinda sends chills down ones spin. Considering this guy works for Darth Cheney.