I was so happy to read in the Washington Post this morning, a great article about the resurgence of trains in this country, and that is both passenger and freight. This follows a conversation Shirlstars and I had last week about our hopes and dreams that there would be a comeback of trains. Then we reminisced about what a role trains played in the development of this country, the opening up the west and which allowed for easier communication between those who moved on west and those left behind in the east. Not to mention, the role trains played in the great glamorous time of Hollywood' 40's, all the stars traveled by train, from coast to coast and points in between. Many movies of the 40's and 50's took place on trains, not to mention Murder on the Orient Express.
I have to ask you is there anything more romantic than travel by train?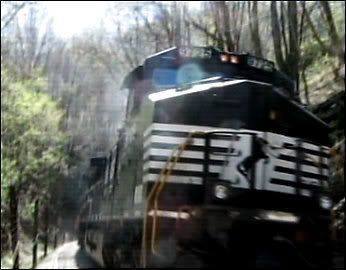 A Switch on the Tracks: Railroads Roar Ahead
Global Trade, Fuel Costs Add Up To Expansion for Once-Dying Industry

By Frank Ahrens
Washington Post Staff Writer
Monday, April 21, 2008; A01

RADFORD, Va. — When Bob Billingsley hired on with Norfolk Southern railway 31 years ago, he was a rookie on work crews that were closing unused lines as the nation's economy turned its back on the railroads.

Now he's in charge of raising the roof of a Norfolk Southern tunnel in southwestern Virginia to clear headroom for the double-stacked container cars that have become the symbol of the industry's sudden surge thanks to a confluence of powerful global factors.

"For years, we were looking for ways to cut costs to increase profits," said Billingsley, as a train rumbled by. "Now, we're building business to increase profits."

The freight railway industry is enjoying its biggest building boom in nearly a century, a turnaround as abrupt as it is ambitious. It is largely fueled by growing global trade and rising fuel costs for 18-wheelers. In 2002, the major railroads laid off 4,700 workers; in 2006, they hired more than 5,000. Profit has doubled industry-wide since 2003, and stock prices have soared. The value of the largest railroad, the Union Pacific, has tripled since 2001.

This year alone, the railroads will spend nearly $10 billion to add track, build switchyards and terminals, and open tunnels to handle the coming flood of traffic. Freight rail tonnage will rise nearly 90 percent by 2035, according to the Transportation Department.

In the 1970s, tight federal regulation, cheap truck fuel and a wide-open interstate highway system conspired to cripple the railroad industry, driving many lines into bankruptcy. The nation's 300,000 miles of rails became a web of slow-moving, poorly maintained lines, so dilapidated in spots that tracks would give way under standing trains.

The Staggers Rail Act of 1980 largely deregulated the industry, leading to a wave of consolidation. More than 40 major lines condensed into the seven that remain, running on 162,000 miles of track.
Do you have any train stories to share?