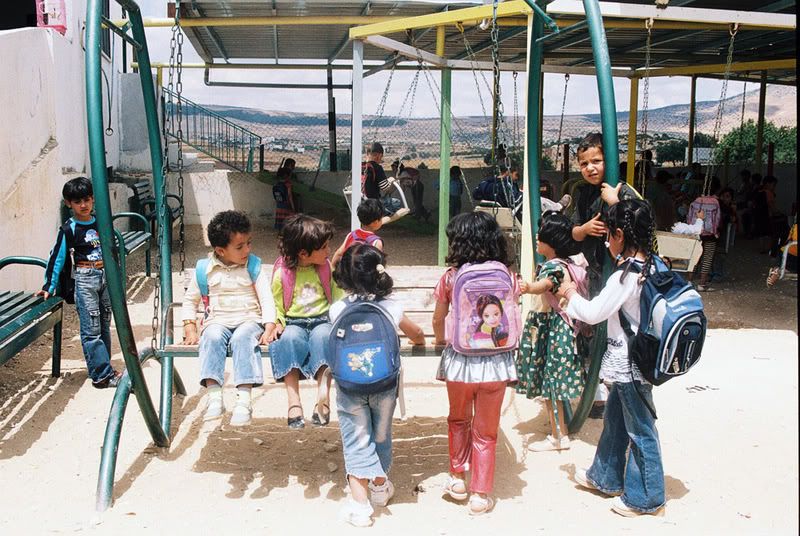 A playground in a kindergarten which received demolition orders
So what's new, one might ask? Annapolis? Bush's demand that the 40-year military occupation stop and a sovereign continuous Palestinian state be created? Rice is claim that there will be a settlement before the end of the year? Don't believe it. The truth is that nothing has changed in the right wing Zionist project to establish a Greater Israel right on top of Palestinian lands in the West Bank. Nothing!
ISRAEL-OPT: Small Palestinian village faces slow death
AQABA, WEST BANK, 4 May 2008 (IRIN) – At the entrance to the small village, labourers continued to work on a cement divider, creating two lanes to make the road safer, while in a side room next to the village kindergarten, Haj Sami Sadiq, the head of the local council, carried on sorting out agricultural development projects for his residents.

Sadiq pretends it is "business as usual", but he knows that at any moment Israeli troops can arrive and begin demolishing most of the village's structures and even some of the streets.

Israel's High Court last month rejected petitions by Aqaba residents asking that it cancel the military's demolition orders, which include the kindergarten, the mosque, a health care centre and residential homes.

"The first demolition orders were issued in 1997. In 2003, 13 more were issued, and since then every year they have given us more… In the whole village there are 45 structures and 35 have orders against them," he said.

The village, in the northeast section of the occupied Palestinian territory, at the top of the Jordan valley, has had a troubled existence since Israel occupied the West Bank in 1967.

Following the occupation, which caused many residents to flee, the area was declared a military zone, and training bases for the Israeli army were established in and around the village. According to the local council, eight residents have been killed and 42 injured during training exercises.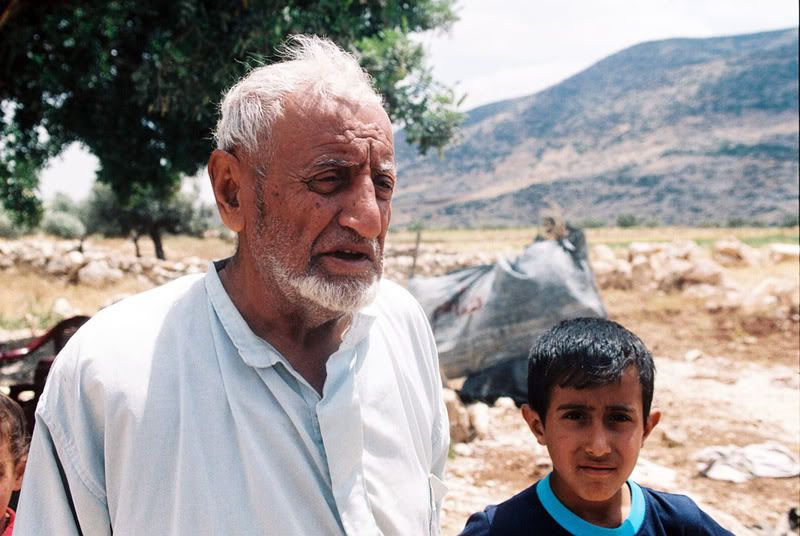 Salem Jabar, 85, received an order to stop building his house
Unexploded ordnance

"We still find unexploded ordnance around the village, and we tell the children never to touch anything," one resident said. While working the fields recently several small rockets were found, as well as shells and bullets.

"When I was 12, I found a live tank shell. I didn't know what it was and I played with it. It exploded and burnt my hands and my face," said one man, now in his 40s.

In January 2008 residents found a man "blown to pieces", according to a person who saw the body, by an explosive the soldiers left behind.

One of those injured by the training exercises was Sadiq himself, now confined to a wheelchair from the bullets that entered his torso in the early 1970s. "They also destroyed harvests by driving tanks through our fields," Sadiq said, moving on from his personal plight.

The military bases were pulled out in 2003, after the residents petitioned the Israeli High Court, saying their safety was at risk.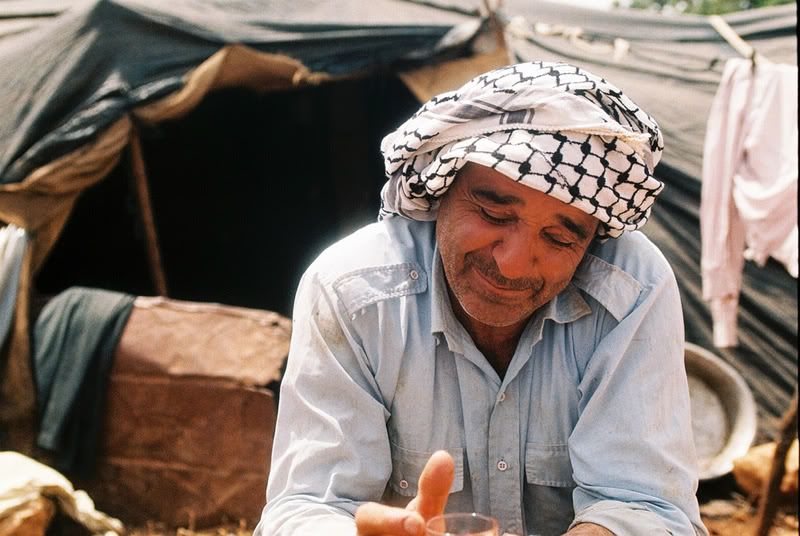 Abdullah Daraghmeh was kicked off his land in 1984
No new buildings

On the outskirts of the village Abdullah Daraghmeh rents a small area for his wife and four children. They were kicked off their own land, further away in a valley, in 1984.

Abdullah and his family live in makeshift tents because "the [Israeli] army has threatened to demolish any structure I build," he said.

That is exactly what happened to 85-year-old Salem Jaber. He worked for decades as an imam (Muslim priest) in a mosque in the lower Jordan Valley. Several months ago he decided to retire and return to his native village.

"Right after I started building a home here, for myself and my family, they issued stop-building orders," he said.

"This land was my grandfather's grandfather's land. Why are they preventing me from building a house? I don't have anywhere else to live," he said.

Israel's Civil Administration in the West Bank told IRIN the High Court had approved the orders given, though for now the mosque and kindergarten would probably not be destroyed.

"There is no master plan for the village. The residents asked for permits after they had already built," a spokesman said. "They can go and live in Taiyser, so they have a solution," he added, referring to a village a few kilometres away.

The residents said that in some cases the permits were indeed requested retroactively, but that there is a specific process for such cases and it is not unusual. In any event, they said, even properly filed permits were never granted.

"They want us off this land and that's it. They will always find an excuse," said Sadiq.
Can America continue to pay for and support these kinds of human rights injustices?
Reprinted by permission.