Luam, BooMan, Atrios, and rae approach the Parkway, and the entrance to the stage area. Apparently Luam didn't get the memo about wearing jeans instead of khakis….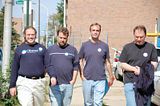 Once inside the red-ticket area, we thought we spotted an infiltrator. (Where are the fashion police when you need them, anyway?)
A closer look, however, revealed that her shirt said "McCain 1908", and was decorated with a "Vote Obama-Biden" button.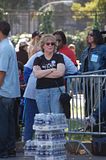 BooMan checks the Frog Pond and tries to settle a dispute over what percentage of the Pennsylvania vote resides in Philadelphia County. Atrios looks on.
Before long, the space between the stage and the Art Museum steps begins to fill up. The people behind the fence have the blue tickets.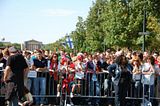 Who knows how many thousands showed up? That's the Philly Art Museum off in the distance.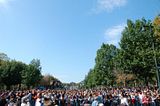 As you can see, the red tickets were mighty fine tickets. That's the Franklin Institute in the background. Great for the kids!!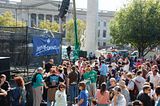 On the left, you can see the video screens and extra speaker banks. The people just came in waves up the Parkway.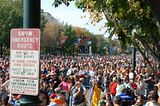 Moments after discussing the fact that PA-06 incumbent Jim Gerlach has a nearly invisible Democratic challenger named Bob Roggio (no events, no signs, no stickers, nothing), I spotted these friendly folks with real live Bob Roggio for Congress stickers on their shirts: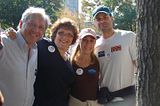 First up: local Philly talent Nora Whitaker (AMAZING voice!) and DJ SomethingSomething doing a little rap together.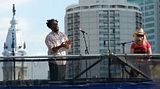 I loved that they had a sign language interpreter. She was even dancing a little while signing for Bruce's performance.
It was definitely a family-friendly event.
Somebody posterfied the Penske truck. I think they should decorate the whole fleet that way…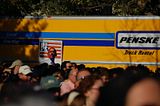 There was even someone there selling Obama action figures. If you look closely at the box, you'll see he's billed as "An Action Figure We Can Believe In".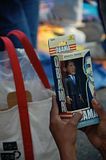 This guy (Pat Ahern) was a 22-year-old Obama volunteer from Montgomery County; that's sports radio host Angelo Cataldi in the background. He introduced Bob Casey (Ed Rendell was there too). Ahern was so, um, self-assured, that everyone around us was whispering about how they could hardly believe he was only 22. As you might guess from his outfit, folks are fired up about the Phillies being in the playoffs this year.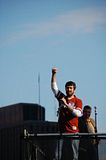 The Boss was introduced by a, ahem, community organizer from the Northern Liberties section of Philadelphia. Casey and Rendell were as starstruck as anyone.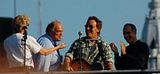 Everyone loved Springsteen's set, but we all remembered why we were there…Obama!
Here's a real close-up of Bruce doing the Ghost of Tom Joad.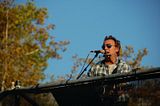 Even the roof of the Franklin Institute was filled with adoring fans.
My favorite Springsteen album is the haunting Darkness on the Edge of Town, from 1978. It isn't even close. So, I was pretty amped when he opened with a cut off that record: The Promised Land. He delivered my favorite verse with acoustic gusto.
I've done my best to live the right way
I get up every morning and go to work each day
But your eyes go blind and your blood runs cold
Sometimes I feel so weak I just want to explode
Explode and tear this whole town apart
Take a knife and cut this pain from my heart
Find somebody itching for something to start
And the CHORUS is perfect every time.
The dogs on Main Street howl
'cause they understand
If I could take one moment into my hands
Mister I ain't a boy, no I'm a man
And I believe in a promised land
Here's the full set-list:
Bruce Springsteen
The Parkway, Philadelphia, PA
10/04/08
The Promised Land
Ghost of Tom Joad
Thunder Road
No Surrender
Does This Bus Stop At 82nd Street?
The Rising
This Land is Your Land
[Photo credit to CabinGirl]