Hello again painting fans.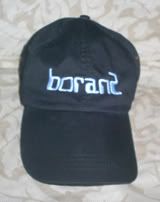 This week I'll be continuing with the shadowed Cape May house. I will be using the photo seen directly low.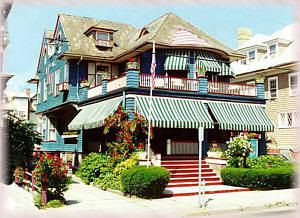 I will be using my usual acrylics on a somewhat larger 8 by 8 inch gallery-style canvas.(This is a thicker canvas similar to the one used in the towered house.)
When last seen, the painting appeared as it does in the photo directly below.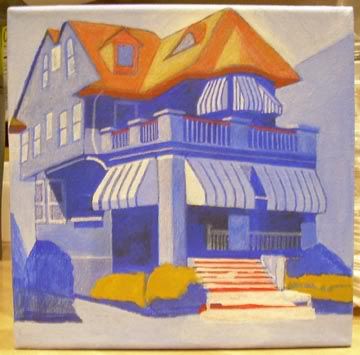 Since that time, I have continued to work on the painting.
I've continued to work on the lower portion of the painting. The steps are now complete, the bright red accents matching those of the porch railings. Posts topped by planters stand on each side. These too carry the red accent lines. Above, the porch railings of the first story are now complete. On the left side one sunlit post contrasts sharply against the shadows. Finally, the street and shrubs have received some attention. The street looks much like it will in the final version. (Unless I decide otherwise. 😉 ) The shrubs will have highlighted and shadowed portions.
The current state of the painting is seen in the photo directly below.
That's about it for now. Next week I'll have more progress to show you. See you then. As always, feel free to add photos of your own work in the comments section below.
Earlier paintings in this series can be seen here.