.
Both renowned soccer nations have never won the World Cup. Spain has never even been in a Final. It is however reigning European Champion of 2008. Holland had a great team in the 70s and played the World Cup Final in 1974 (Munich, Germany) and in 1978 (Buenos Aires, Argentina). Both times they were beaten by the host nation.
The Dutch school of soccer has been introduced to Barcelona and more recently to Bayern Munich at club level. German champion Bayern Munich under Louis van Gaal had a great year and delivers 7 players to the German national side and 2 players to the Dutch side. All three European nations play an attacking style of soccer in the 4-2-3-1 formation. The Spanish side has superior individual talent, but haven't played at the top of their game. The young German side is the surprise of the World Cup tournament with attractive soccer and scored the most goals. As team they have shown a marvelous form.
Tonight it was a single moment of poor defending as Puyol was able to score the only goal out of a corner kick.
Truly looking forward to Sunday's match!
Germany – Spain 0-1
(The Guardian) – Spain grasped their place in a World Cup final with Holland on Sunday by proving that they can stop being their elaborate selves when different methods are essential. A disappointed Germany will be stunned that they should have conceded a goal at a set-piece, when Carles Puyol headed home after 73 minutes. His side were more at ease thereafter and Pedro squandered an opportunity to extend the lead.
73 min: GOAL!!! AND A RIGHT OLD-FASHIONED ONE AT THAT!!! Germany 0-1 Spain. Iniesta Willie Waddels down the left, and wins a corner off Lahm. Xavi snaps the corner out to the edge of the six-yard box, where Puyol crashes an IMMENSE header into the top-right corner. That's a wonderful header. And one totally not in keeping with Spain's style of football. That's sport for you, right there!
75 min: Germany look shocked, and no wonder. Not only are Spain now with one foot in the final, they've put it there with a hammer blow of a goal. Every German would have felt that Puyol header like a fist in the solar plexus.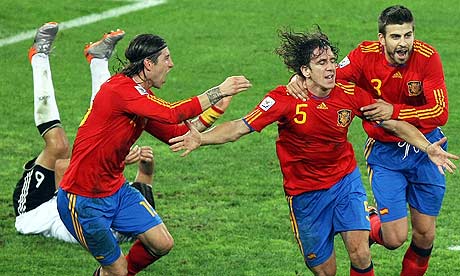 « click for story
Carles Puyol celebrates with team-mates Sergio Ramos, left, and Gerard Pique
after giving Spain the lead in the 73rd minute. Photo: Halden Krog/EPA