Hello again painting fans.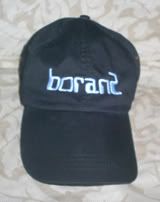 This week I'll be taking a brief break from the Cape May shingle style house. I'm starting a long term project in anticipation of an event that will take place next summer. It is the LeMans-winning Mazda 787B seen in the photo directly below.

Now I'll tell you how I arrived at this decision. Earlier this summer I entered two paintings in my first juried art show. This means that 3 seasoned artists review all the entries and determine which will go into the show. The show, which is currently underway, is being held by the Kent Art Association. The two that I chose are old Saturday Painting Palooza projects that may be familiar to long time readers. Both are favorites of mine. They are seen in the two photos directly below.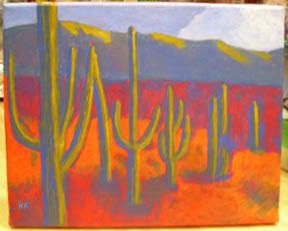 Now after talking to several people, I was fairly certain that the 1949 Packard was the stronger entry of the two. I spent many weeks doing it several years ago and I believe that it shows. There are paintings within the painting including reflections that could stand on their own as independent images. It was a personal milestone for me. The cacti are nice but certainly less notable.
I, along with many other artists, left my two pieces for the judges. KAA sends out its decisions by mail. One Saturday a few days later, my envelope arrived with our other mail. I tore it open anxiously. And I was rather surprised. The Packard was rejected, the cacti were in the show.
Subsequently, I discussed the results with my sister-in-law, an artist whose work has appeared at KAA and won one of the awards in the same show several years earlier. She noted that the association seems to prefer landscapes. Furthermore, the frame on the cacti was far more flattering to the painting it contained. (And of better quality.) Presentation counts. Sigh.
So, in anticipation of next year's event, I've decided to present them with another car, a thumb in the eye, so to speak. Yes, I'm doubling down for rejection. It's part of my newfound I've got to be me approach to social considerations. What can I say, I like cars. I'll also present them with something falling under the heading of conventional landscape just for a balanced approach. As an aside, this painting is on a large gallery wrapped canvas that won't need a frame.
I've had this image (from Wikimedia Commons) for some time. The time now seems ripe and I can take my time doing it. I'll provide updates from time to time in this space.

The current state of the painting is seen in the photo directly below.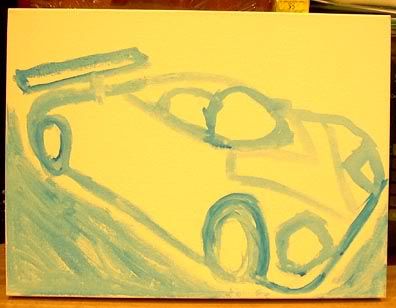 That's about it for now. Next week I'll have more progress to show you. See you then. As always, feel free to add photos of your own work in the comments section below.
Earlier paintings in this series can be seen here.