Hello again painting fans.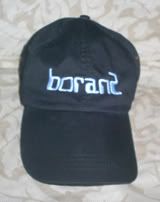 This week I'll be with the painting of the Physick Estate in Cape May, New Jersey. It is seen in the photo directly below. I'll be using my usual acrylic paints on a 12×12 inch canvas.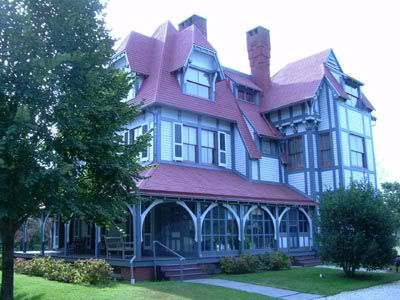 When last seen, the painting appeared as it does in the photo directly below.
Since that time I have continued to work on the painting. Sort of.
Shortly after last week's installment, I managed to slather a sloppy swath of green paint on the lawn area of the canvas. And then the great October snowstorm hit the east coast. It appeared at my Hudson Valley home Saturday at about noon while I was outside mulching fallen leaves. Within a few hours there was perhaps a foot of snow on the ground. And then the power went out. It would not return until Wednesday at 4:30 in the morning.
Thus began what would be some of the most difficult times we've had in this house. Sleeping for four nights in an unheated house in 25 degree weather made for some very uncomfortable nights. We spent some time in a warming center at the middle school but then came back to sleep in our cold beds. Peanut butter sandwiches were eaten by the light of solar-powered lantern. We played twenty questions. I caught up on my book on Chaco Canyon architecture. Blankets were piled high on our beds.
When the power finally came back I was not in a mood to work further on the painting. I will have more done for next week.
The current state of the painting (such as it is) is seen in the photo directly below.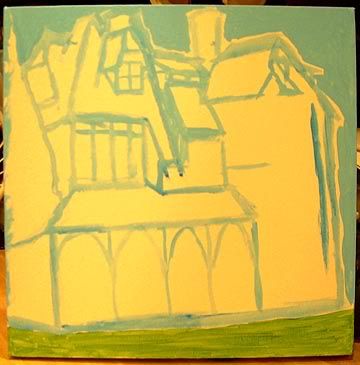 That's about it for now. Next week I'll have more progress to show you. See you then. As always, feel free to add photos of your own work in the comments section below.
Earlier paintings in this series can be seen here.