.
I just watched a discussion on al-Jazeera about reform and human rights in Bahrain. An ICI report also cleared Iran from the accusations being behind the revolt of the Shia (70%) majority in opposition to the Sunni monarchy and authoritarian rule. Of course the Western powers, US and Saudi Arabia want no part of any Arab Spring in this part of the world. In a recent protest march in Bahrain I saw a large banner I couldn't miss, the demonstrators thanked President Obama ;-).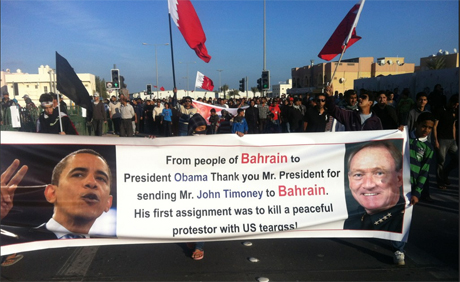 « click for story
A protest held in Sitra, in Bahrain, over the death of a 15-year-old boy, Sayed Hashim Sayed Saeed

(The Guardian) – Bahraini riot police fired teargas at protesters in Sitra. It shows protesters approaching police lines with their arms outstretched to signal their peaceful intent. The police are then showed firing large quantities of the chemical agent.

The demonstration was held to protest over the death of a 15-year-old boy, Sayed Hashim Sayed Saeed, who died last week after he was shot in the face with a teargas cannister, according to the Bahrain Centre for Human Rights [BCHR).

Thank u #Obama for sending John Timoney to #Bahrain His 1st assignment was to kill a peaceful protester with #USteargas http://t.co/q5L2qVvL
Read more – US partner in Human Rights Abuse
"The Timoney" makes US direct partner in al Khalifa regime Human Rights Abuse

(Crooked Bough) – Running headlong into disaster, the former police chief of Philadelphia and Miami, John Timoney, has arrived at Bahrain's Interior Ministry to "advise" the Bahrainis on more effective use of concussion grenades, pepper spray, tear gas, rubber bullets and baton charges and how to masquerade Human Rights abuse as policing strategies. While the opposition looked to Washington for a constructive intervention, Secretary Clinton delivered 'The Timoney'.

"The Timoney's" militarized crowd control methods made him a fascist legend in his own mind and apparently that of the al Khalifas, who have "choosen" him from Secretary Clinton's "short list" of one. He brings with him a record of miserable failure in the pubic relations with disaster, after disaster and a trail of blood and brutality. He is sure to be in good company with the al Khalifas. Perhaps this time he is deployed far enough away from home to kept the ugly shit out of the US press.

Bahrain's keystone cops will now be aided by a Bahrain's military unit, recently trained in the US on the latest tips and tricks of 'crowd control', during a police training exercise called "Urban Shield 2011".

Bahrain and Libya expose the two faces of Britain's foreign policy
John Timoney, Former Miami Police Chief, To Train Police in Middle East Kingdom of Bahrain

John Timoney, the former Miami Police Chief most notable for his violent handling of the FTAA Protests in 2003, is now packing his bags and heading to the Middle East. Bahrain's Interior Ministryhas hired Timoney to handle training of police.

The kingdom has decided it needs to reform its police force after several reports of abuse against pro-reform protesters. So, uh, they hired a guy who masterminded the controversial "Miami Model" to train police to less likely to abuse protesters? Makes sense.

Timoney will lead a group of police advisers from the US and Britain. The group will be responsible for retraining the police force after an independent commission cited example of police misconduct. No word if the Kingdom will supply Timoney with a free Lexus SUV for his services.

The BBC reported earlier this year that police brutality has turned Bahrain into an "island of fear." Police have been accused of using torture and excessive force against Shiite-led protestors.
"But I will not let myself be reduced to silence."