Back on June 14th, 2005, Diane101 opened the first Froggy Bottom(s) Cafe. There would eventually be 721 versions of the cafe in diary form and over 400 more in story form. The last one is available here.
They used to look like this: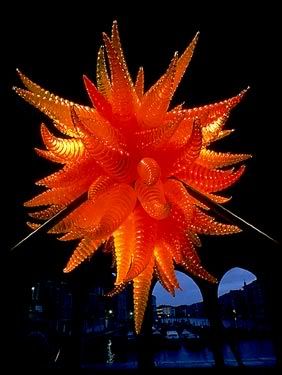 Here comes the Sun!
Self-serve food and drinks.
| | |
| --- | --- |
| Sunglasses are in their regular spot next to the door | Please recommend (and unrecommend the Cafe/Lounge from earlier) |
May the Chihuly be with you!
Some time soon, I'll be shutting Booman Tribune down and opening Progress Pond. I already have a category set up there for new Froggy Bottom Cafes.
If I haven't already helped you activate your account at Progress Pond, you can do so by going to the site and trying to sign in. Use the same user name that you use here, but tell it that you've forgotten your password.
It should send you a new password, but if you no longer have access to the same email that you used to create an account here, or if you can't remember which email account you used, just leave a comment in this thread or shoot me an email at admin@boomantribune.com. I'll help you get set up.
After this cafe has outlived it's usefulness, I hope some of the veterans of the over 1100 cafe diaries will get together to publish a goodbye cafe for the BT frog pond and a welcome to the new one.
I hope to see you over at the new place.