The twice-impeached, disgraced ex-president is ramping up his rhetoric against Manhattan Attorney General Alvin Bragg in the hope that he can somehow prevent an indictment in the Stormy Daniels hush money case. Now he is predicting that any indictment will lead to catastrophic "death and destruction."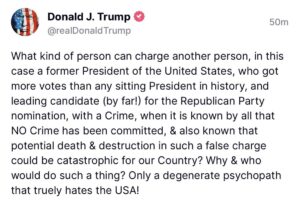 Previously, Trump referred to Bragg as an "animal," and here we see him calling Bragg "a degenerate psychopath." He also insists that he hasn't committed any crime, but it is "known by all" that as INDIVIDUAL-1, he is every bit as guilty as his former lawyer Michael Cohen who was convicted and did hard prison time for his role in the Daniels case.
Moreover, Cohen testified during his trial that he made false statements to Congress "to be consistent with Individual-1's political messaging and to be loyal to Individual-1." In other words, Cohen exercised the hush money scheme at the behest of Trump and then perjured himself to protect Trump from the political and legal consequences of their actions.
Trump was not indicted at that time because of a Justice Department policy against bringing criminal charges against a sitting president. But Trump is no longer a sitting president and there's no reason why he should get better treatment than Cohen simply because he's announced his intention to seek the presidency again. Simple justice demands that Trump face the same consequences that Cohen faced. There's really no theory under which Trump should get a pass.
Trump's threats have already had legal consequences. On Thursday, the judge in Trump's rape case took the extreme measure of creating an anonymous jury.
The judge handling the civil lawsuit of E. Jean Carroll against Donald Trump says jurors' personal information will be kept confidential and other security measures will be taken to protect them, citing the former president's history of attacking the legal system.

Judge Lewis Kaplan noted Trump's most recent comments surrounding the Manhattan District Attorney's investigation into alleged hush money payments adult film star Stormy Daniels as a reason to protect jurors as much as possible

"Mr. Trump's quite recent reaction to what he perceived as an imminent threat of indictment by a grand jury sitting virtually next door to this Court was to encourage 'protest' and to urge people to 'take our country back.' That reaction reportedly has been perceived by some as incitement to violence," Kaplan wrote in an order Thursday.

"And it bears mention that Mr. Trump repeatedly has attacked courts, judges, various law enforcement officials and other public officials, and even individual jurors in other matters," the judge added.
That happened before Trump's latest outburst, and also before he posted the following image at his Truth Social website where he appears to be swinging a baseball bat at the head of Bragg.
This is obviously reminiscent of 2019, when Roger Stone received a gag order after posting a threatening image including crosshairs on Instagram about the federal judge Amy Berman Jackson, who was overseeing his case.
Jackson promised to hold Stone responsible if  "his post caused others to act in threatening or harmful ways." She mentioned house arrest and prison as possible consequences.
Truthfully, Trump's actions here are more clearly invitations for his supporters to commit acts of violence, either against Bragg in particular or against the nation as a whole.
The various judges overseeing Trump's civil and criminal cases will be justified in exercising prior restraint and limiting his right to speak freely about his trials. The rape case may not be the only one involving an anonymous jury.
Trump's handling of sensitive classified material is a threat to national security, but I believe his provocations to violence are even more serious, and his scheduled rally this weekend in Waco, Texas, really drives home the point. He's doing everything he can think of to cause catastrophic death and destruction, and the courts are reacting by treating him in the same manner they treat prominent gangsters and terrorists who are on trial.
I'd say I'm surprised that Trump is taking things this far, but it's exactly what I expect from him.