My best friend fought cancer for eleven years. The last time we had a quiet "best friends" conversation – I'd gone over to her house because I was worrying more about her. So thin. Weaker. Harder to keep the pain under control. As I sat on her bed, my boyfriend called – "It's started. The war." We turned on the TV. She said, "That fucker. I can't believe he really did it."
She died two weeks later. Two years without my best friend and two years of a pointless, horrible war. Her death couldn't be helped. She fought. Medicine did all it could. But how many have died for this mistake – this lie, this war?
The email I sent to my friends about the march on Saturday said, "Well, I guess we never learn. Isn't it deja vu all over again? I've always said that I wasn't really an activist against the Vietnam war, but that I'd show up if there was a protest. Well, there'll be one next Saturday (different war, same insanity), so . . ."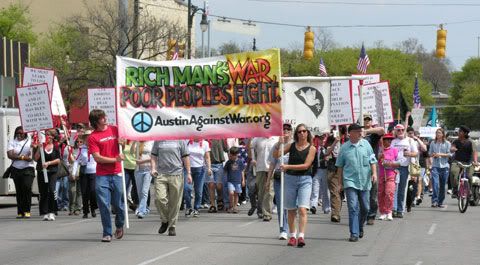 [All of the really good photos – like this one – were taken by my friend Rick. McMurtry one below is spectacular, isn't it?]
The turnout was less than I expected. Lots of reasons for that, I suppose – beautiful Spring day, competition from south by southwest, no/little publicity (I only knew about it because I got an email from CodePink.) But still.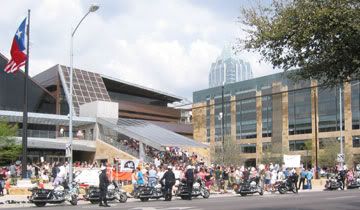 I am totally clueless about how to estimate crowd size, but the march itself seemed to be three or four blocks long, if that tells you anything. We ended up at our new city hall. This being Austin, the music was great and speakers not too bad, either.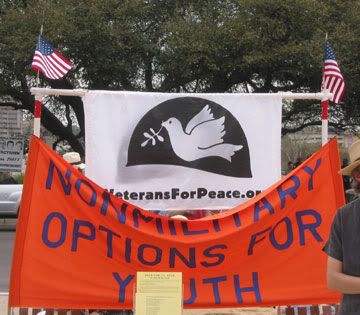 This one's for Tom Kertes. Veterans for Peace. American flags. Alternatives to the draft. What more could you ask, Tom?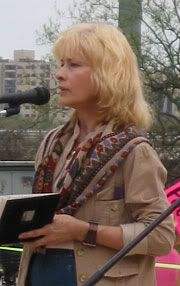 Jackie Goodman, City Council member and mayor pro tem was speaking when I arrived at City Hall.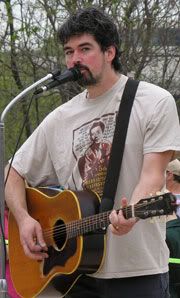 Music from Slaid Cleaves.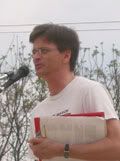 Robert Jensen spoke next. Impassioned. I've been a fan of his writing for some time – he has op-eds in the Austin American Stateman from time to time. See A Defeat For an Empire and Sinners or saints: The contradictions of conservative Christian politics for samples of his work. I agreed with everything he had to say – except – when he attacked Democrats as no better than Republicans. The problem is power, and that those who have power protect it at all costs, he said. Yeah, I get that, Bob, but I really think that the first priority is to get the maniacs currently in power out of power and I think the Democrats are the only hope we have of doing that.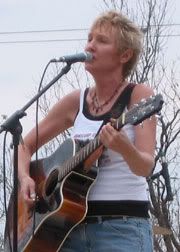 Eliza Gilkyson up next. Unbelievably powerful song, "Man of God." It was a message to George W. "you are not" a man of God. I wish I could make a link to it, so you can listen, but I couldn't find it, and it doesn't seem to be on her new album. But if you can find it anywhere, by all means, Go Listen. It's awesome.
She also did "Highway 9." Sample of the lyrics
Well, the white god said to the little man
we're gonna fulfill scripture in the holy land
between the Tigris and Euphrates, it's a lot like hell
go on and liberate my people and the o-i-l.
Got your big trucks rollin' down hiway 9
put on the armor, it's party time
gonna dance with the devil of our own design
get your big trucks rollin' down hiway 9.
So the little man gathered all his chicken-hawks in
and the neo-cons and his daddy's kin
With their own clear channel and a helluva spin
and a white man hidden in a black man's skin.
Big trucks rollin' down hiway 9
pulverize the public, it's payback time
who's tax dollar is it? your's and mine
keeps the big trucks rollin' down hiway 9.
Listen to a sample here.

There were the Protest Warriors "counter-demonstrating" across the street. Truly disgusting signs. Cracked me up when the anarchists went over and put their signs in front of them, so the Protest Warriors had to hold their signs up higher.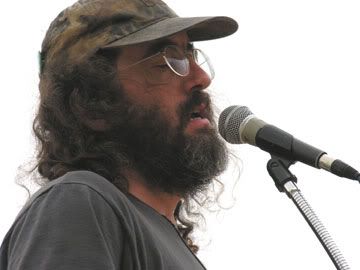 And then one of my long-time favorite singer songwriters, James McMurtry. Started off by saying that there was plenty of dancefloor space in front "if you're not a Baptist. And if you are, pretend you're a Methodist, because we can't tell the difference."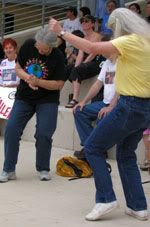 Well, I'm not a Baptist or a Methodist, but if James McMurtry's playing and there's room to dance, I'm not missing the opportunity. I look across the way and there's a fellow "woman of a certain age" dancing too, so I danced over to her and the two of us old fogies showed the young lefties how it's done. (I'm the one in the yellow shirt.)
James shouted out for us to come up close to the stage "because we play better that way" so we did. Others joined in. Felt so good, but with an underlying sadness, since I couldn't help but remember dancing on the main mall at UT during Vietnam era protests. Same insanity. Different war. 1970. Thirty-five years and it comes around again. I was 21, now I'm 56. I danced this time for the same reason I did then – because this is what life is supposed to be about. Springtime. Music. Kids and dogs and people who care.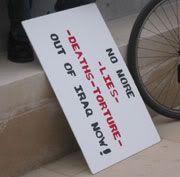 The "counter protesters" were gone. Guess their arms got tired. Wimps.
McMurtry ended with "We Can't Make It Here." Go Download.
By the time he finished, rain clouds were coming up from the southwest. Lightening and thunderstorm and hail soon after.
Peace.