How did this all get started?
I launched Booman Tribune on March 13, 2005. At the time, I envisioned it at an alternative to Daily Kos, which was too editorially rigid and too aligned with the Democratic Party for my tastes and which was focused almost exclusively on American domestic politics and foreign policy. Booman Tribune welcomed non-Democrats to participate and encouraged more discussion of global affairs from a foreign perspective. It had a separate category of recommended diaries for non-American authors. Before long, much of the non-American content migrated to a sister blog (European Tribune) set up with my help by a group of European Kossacks.
The importance of sites like Daily Kos, Booman Tribune and MyDD in the early to mid-aughts was that they allowed users to publish their own articles instantly and with few editorial restraints, and those writings would find a ready-made audience and receive an immediate response. This was empowering for people who were looking for a way to express their dismay with the Bush administration and the invasion and occupation of Iraq.
In a world that did not yet have social media or easy ways to promote your blog, we helped dozens of writers hone their skills, find their voice, get an audience, and make their way onto bigger and better platforms. What we didn't do, however, was financially compensate these writers. That's why I started to develop Progress Pond in 2014. I wanted a site where the user/authors would get a share of the money they created by generating page-views. I was never able to fully-implement my vision for that site and it lay in a state of dormancy for five years. In the interim, social media really took off and better-funded projects like Patreonand Mediumwere created to help fledgling artists in their quest to gain an audience and make a living.
By 2018, I realized that my old idea for Progress Pond was obsolete, but I had other considerations that were weighing on me. I needed to move Booman Tribune onto a new server to protect the 45,000 articles and million comments that had been generated over the previous thirteen years. The site also desperately needed an upgrade to keep up with technological changes that impact everything from page rankings to advertising revenue.
The only way I could afford to do all this was to move to a subscriber-based platform. Since I needed to completely overhaul the site, I figured I might as well rebrand it, too. So, I made the decision to repurpose my original Progress Pond idea for a new site that would preserve everyone's stories and comments but would no longer be a vehicle for user-generated stories.
The result is what you see. Anything that was created at Booman Tribune between 2005 and 2019 is available in the archives here. Users can find their diaries and comments on their user pages or by utilizing the search feature. The site is now optimized for page rankings and has all the bells and whistles you associate with the most up-to-date blogs and blogging communities.
What kind of community is Progress Pond?
The community here is the legacy of fourteen years of organic development at Booman Tribune. It's a progressive-minded group mostly made up of Democrats who are interested in policy, elections, and global affairs and are hoping to make a positive difference in the world. At the outset, I declared Booman Tribune to be dedicated to "building the Democratic Party, raising money for the Democratic Party and its candidates, finding and promoting promising candidates for state and local offices, helping to shape the Democratic Party's agenda, and holding Democratic office holders to account for their votes and their ethics."
At the same time, I emphasized that "everyone is welcome at the site regardless of political self-identification. I don't care how you are registered to vote, who you have voted for in the past, or who you plan to vote for in the future. The only restriction on non-Democrats is that they be respectful of the mission of this site, that they don't post Bill O'Reilly-like talking points, and that they don't engage in trollish behavior." Because I now have a more mainstream job as the web editor and blogger at the Washington Monthly, I don't do fundraising and candidate vetting for the Democratic Party anymore. The rest of that all basically still holds true. The only policy I ever promulgated about user behavior was the Don't Be a Prick Rule, which I described herein 2005.
Today I have had to try to arbitrate my first dispute here at BooTrib and it wasn't a process I particularly enjoyed. But it comes with the job. And I just want to disseminate a new rule based on my semi-collected thoughts:

Not everyone is as smart as you. Not everyone one is as well-informed as you. Not everyone writes as well as you.

And I don't care how dumb, ignorant, and illiterate you are, there is someone, somewhere who is more so.

So, when it comes to having disagreements and debates and discussions…this is the rule:

Don't be a prick.

Don't act in a way that would get you punched in the face or thrown out of a dinner party. Don't treat other people with disrespect even if you think they are stupid and ill-informed.

Don't mock someone because they have trouble expressing themselves.

Don't be a prick.

That's the rule.
This simple guideline proved to be shockingly effective and much more flexible than the kind of detailed policiesyou see elsewhere. The Booman Tribune/Progress Pond community has a well-deserved reputation for having one of the most thoughtful and respectful comments sections in the history of the blogosphere, and we'd like to keep it that way so please don't be a prick.
Why does the site have a Frog theme?
It's a reference to the Valerie Plame affair. After she was outed as an undercover CIA officer by members of the Bush administration, her husband (with only partial accuracy) blamed White House advisor Karl Rove, stating, "It's of keen interest to me, to see whether or not we can get Karl Rove frog-marched out of the White House in handcuffs." – Joseph C. Wilson IV.
To learn the etymology of the term frog-march you can read this column by Bill Safire. He may have spent his career shilling for the Republicans and our intelligence services, but he was a reliable source on language.
The frog is a reminder that politicians and political operatives do occasionally get drummed out for corruption or unethical behavior. And we would like to speed that process along.
The Booman Tribune motto was "We Won't Rest Until They're Frog-Marched Out," so, it only seemed natural to have a frog mascot.
Before long, the site became informally known as "The Frog Pond," and that helps explain why the new version is called Progress Pond.
Why was the old site called Booman Tribune?
It comes from my 'pet' name for my Newfoundland dog, named Buster (1996-2006, may he rest in peace). When I took him as a puppy for his first veterinarian visit, the doctor called him "Buster Boo". My then-wife and I liked that so much it wasn't long before we began calling him "The Boo Man".
Here's a picture: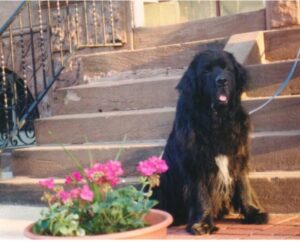 When I created a DailyKos account on March 25, 2004, I chose BooMan23 as my user name in honor of my dog and my favorite baseball player, Don Mattingly of the New York Yankees. It was under that pseudonym that I first gained an audience for my writing. It's still my Twitter handle (follow me here). I dropped the '23' but otherwise kept the BooMan name when I launched a new site for Daily Kos members who were looking for something a little bit different. Today, people know me better by my real name, so I've dropped the pseudonym. This is another reason why I chose not to retain the old blog's title.
I like free stuff, so why should I become a subscriber?
If you have read Booman Tribune for years, you already got a lot of stuff for free. It was a very costly exercise to preserve all of that material and convert into a language that the WordPress database can understand. If I rely on the paltry amounts that advertisers pay, I will never make my money back, let alone actually make any money to pay for operational costs, help supplement my income, and send my son to college. Whether out of gratitude or mercy, you will hopefully can see the merits of making a recurring contribution to the new site.
Whether you are a long-time reader or new one, the tiered subscriber systemcomes with benefits. With the lowest subscription, you can access all the content on the site, privately chat with other users, and add a blogroll and Twitter feed to your personal user page. With more generous subscriptions, you can turn off some or all of the annoying advertisements.
Subscribers will see material that is not available at the Washington Monthlyincluding a lot of my analysis of the 2020 primaries and general election.
If you are one of the very generous and awesome people who are already making recurring donations to the site or who have made contributions in the past, you'll want to make sure that you get all the content you're entitled to in the future. By signing upthrough the system, you'll make sure that happens.
Finally, without subscribers, this project will not work, and an important online progressive community will be lost.
What is the Froggy Bottom Cafe and Lounge?
This a virtual space where site members can relax and take a break from political discussion. New members are especially invited to visit. You can introduce yourself, ask questions and find the member user manual. Heavy political discussion is generally discouraged in the Cafe; frivolity is more the order of the day.
The Cafe operates from 6am to 6pm (Eastern Time) and the lounge is open at night. Every Friday, the space converts in the Foto Flog, which is a place to share your favorite photographs and enjoy the photos submitted by other users. On Saturdays, the Cafe is often operated by longtime user Boran2, who shares his progress with his latest paintings. You can enter the Froggy Bottom Cafe by clicking on the front-page icon.