I was struck by the dates on the Tony Auth cartoon today:
I knew it had been 15 years since Terri Schiavo had been able to experience life as most of us would define it, so I thought to look back at what was happening then to try to remember those times…
February 25, 1990
Terri Schiavo suffers cardiac arrest, apparently caused by a potassium imbalance and leading to brain damage due to lack of oxygen.
Click extended copy to read what was going on back then…
Poltics/Government:
A month earlier, Noreiga surrendered in Panama.
Earlier that month, the Communist Party reliquinshed sole power in the USSR, and

Nelson Mandela was freed from prison in South Africa.
Six months later, Saddam Hussein invades Kuwait in the middle of the lone term of George W. Bush.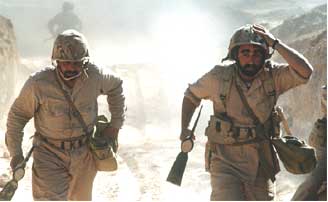 Later that year: Gorbachev assumed emergency powers (Nov. 17), Margaret Thatcher resigned as British prime minister (Nov. 22); Lech Walesa won Poland's runoff presidential election (Dec. 9) and Haiti elected leftist priest as president in first democratic election (Dec. 17).
Most Americans had never heard of Bill Clinton, let alone Hillary, Gennifer Flowers, and Monica Lewinsky. Only political geeks (outside of Tennessee) probably knew that Al Gore existed.
In Space:
The Hubble Space Telescope was originally due to be launched in 1986, but the explosion
of the Space Shuttle Challenger delayed the launch until April of 1990. The twelve-ton telescope was equipped with a ninety-four inch mirror and was sent into orbit by the astronauts aboard the Space Shuttle Discovery. Within two months, a flaw in the mirror was discovered, placing in jeopardy the largest investment ever in astronomy. Three years later, the defect was finally repaired by specialists aboard the Space Shuttle Endeavor who restored the telescope to its full optical capabilities.
In computers:
Microsoft Corporation introduced their new operating system Windows 3.0 which featured a graphical user interface similar to the Macintosh platform from Apple. The PC version of the software was geared towards the novice home user and forever changed the world of personal computers. Some of the new features included the use of a mouse, which allowed the user to navigate the screen with a pointer and manipulate data with one hand.
Most Americans didn't have email at that point. Or know about computer viruses, blogs, etc.
In TV:

America's favorite dysfunctional cartoon family, The Simpsons debuted as a half hour-comedy on the FOX Network. Created by Matt Groening in 1987, the characters of Homer, Marge, Bart, Lisa and Maggie were featured as thirty-second spots on The Tracey Ullman Show before going solo in 1990. Also, Seinfeld debuts on NBC.
Top Ten Shows that season:
1 Roseanne
2 The Cosby Show
3 Cheers
4 A Different World
5 America's Funniest Home Videos
6 The Golden Girls
7 60 Minutes
8 The Wonder Years
9 Empty Nest
10 NFL Monday Night Football

At The Movies:

A month later, the Academy Awards were given out:
Best Picture: Driving Miss Daisy
Best Actor: Daniel Day Lewis, My Left Foot
Best Actress: Jessica Tandy, Driving Miss Daisy
Best Supporting Actor: Denzel Washington, Glory
Best Supporting Actress: Brenda Fricker, My Left Foot
Best Director: Oliver Stone, Born On the Fourth Of July
Best Song: Under the Sea, The Little Mermaid
Other movies with nominations or awards: When Harry Met Sally, Field of Dreams, Dead Poets Society, The Abyss, Parenthood, The Fabulous Baker Boys, Batman, Do the Right Thing.
The X rating is replaced by NC-17 (no children under 17).

In Music:

Commercially the big story was the multi-platinum breakthrough of Garth Brooks, who singlehandedly took country music mainstream with sensitive James Taylor smoothness and crowd-pleasing arena-rock antics. Hip hop had a great year, with Salt-N-Pepa's feminist Black's Magic the year's best record, and LL Cool J and Public Enemy also releasing outstanding efforts. Meanwhile, R&B was a wasteland – Mariah Carey's multiplatinum debut was the best of a bad lot.
Euro dance band Milli Vanilli admits to lip-synching hits such as "Girl You Know Its True," and has its Grammy award revoked.
1990 was also the year Entertainment Weekly hit newsstands.
Sports:
A month or so later, UNLV with Larry Johnson,
would beat Duke for the National Championship of college basketball.
Cecil Fielder would lead the AL in HRs that season with 51, Ryne Sandberg the NL with 40.
Bob Welch would win 27 games for the A's, Doug Drabek led the NL with 22 wins for the Pirates.
Nine no hitters would be thrown that season, including Nolan Ryan's sixth.
Ken Griffeys Jr. and Sr. played together.
On April 20, 1990, Pete Rose, the all-time hit king, plead guilty to two felony counts of filing false income tax returns.
Barry Bonds had 84 career HRS, after slugging 19 in 1989. He'd hit 33 in 1990.
A month earlier, San Francisco Giants had defeated the Denver Broncos 55-10 in the Super Bowl.
Notable Deaths:

BF Skinner
Jim Henson
Greta Garbo
Sammy Davis Jr.