This is really starting to hurt my soul lately.
I don't have a magnet or sticker on my car. I've been called names that would make you sick. I live in the Redneck part of a Blue State between "Bumfuck" and "You've Got a Purdy Mawf", California.
I've had some rather hairy scary encounters with some of these people who are going totally postal. Here's a snippet of another type of postal encounters.
Each morning I pin up another Whispering Campaign notice and as well as another "Bring Them Home Now" postcard on the USPS bulletin board that I received from Veterans For Peace at the UFPJ concert.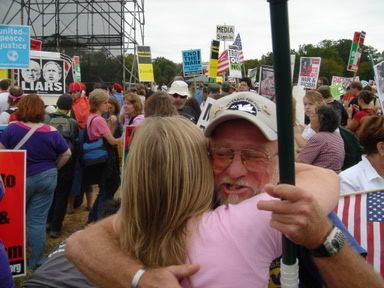 The gentlemen there treated me like I was a queen and gave me a stack of cards 2 or 3 inches thick that I carried all the way home to California. (Me meeting a new life-long friend, Jim Staro of VFP)
After some rather harrowing experiences with the Deliverance people around my county lately, most of which have never served a day in their life let alone served a hungry person a bowl of soup… I wasn't sure how a reunion would be with a certain young man I had watched grow up.
My young friend has been in Iraq since he turned 18. He spent 3 tours there. I was sure he had heard I had marched. I was sure he was told what a horrible person I am for not supporting Bush. I wasn't too sure if he would still like me. I wasn't sure of what I would or could say to him if we ever met.
As fate would have it… this is how we reunited.
Turns out I didn't have to say anything to him he had come up behind me as I was pinning yet another "Bring Them Home Now card on the board. Our eyes met. He just came up to me and hugged me. Then he cried. He came home after risking his life to find most of his friends and family hadn't even bothered to VOTE. He cried and said over and over again, "they don't care".
I've had people scream at me, call me names, try to rip flags from me… holding a Marine in my arms as we reassured each other and reunited… was almost like being in DC again. It was a "Welcome Home" for both of us to each other.
"If you don't support the War President you don't support the troops." What a complete crock of a mind fuck that is on American Citizens.

I dare anyone to say that the young man above doesn't support the troops. He was at the DC March. Along with hundreds of thousands of others who were there because they do support the troops. I dare anyone to say that Veterans For Peace, Iraq Veterans Against the War, Military Families Speak Out, CodePink etc etc – do not support the troops. If one believes that then they are a blind fool.
Supporting the troops has NOTHING to do with one's dissent of this piece of shit President or fucked up Administration. In fact, if one actually did support the troops they'd be demanding answers from this government.
It's not just politics. It's also about HUMANITY.
I was asked at Camp Casey DC if I had lost anyone probably because I couldn't quit the flow of tears as I walked along the white crosses. I started to say no. Another man corrected me and said that we ALL lost them. That all those Soldiers and Marines are OURS. THEY ALL ARE OURS.

Time Warp…. to another morning…
I got my friend in touch with Iraq Veterans Against the War just now…. I hope he can find some peace and support there…
Drove over to the Post Office and found that my young friend was waiting for me there. He didn't have my phone number and figured that I'd show up at some point. This struck me hard — he was just waiting.
He had some pictures he asked if he could show me. Some were of where some of his pals had spent their last minutes. He said that at the time he thought their loved ones might want to know where they had died and so went back and took photographs of the areas…. but that he can't ever give them up or doubts anyone will want to see them.
He said that in the short time he's been home he's never felt "so far away". No one wants to talk to him about anything. Just me and his Dad but says he's worried about freaking out his Dad all the time. Gave him my number and said he could call anytime.
I mainly just listened. There were times when I was even able to make him smile a bit. I hope I did alright.
I see a kid of barely 21 and he now looks like an old man when he tries to smile.