Wow, I wanted to post this earlier this week…but it's been way too busy around here!
I know I promised to post new pictures of my works in progress last time, so here they are. I finished the body of my sweater late last week, did a 3-needle bindoff to sew the shoulders together, and now I'm on row 37 of the 82 rows needed for the hood.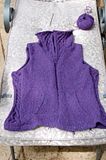 After I finish the hood, I just need to run an applied i-cord up the front edges, put in the zipper, and sew the sleeves on. Think I can do that in the next 2 weeks, considering I've never done the i-cord thing before?
I also have a pair of socks for CBtY that are almost done (I just need to do 2 or 3 more rows of ribbing at the top), but I forgot to take pictures of them.
Instead, I have pictures of my yummy Blue Moon Fiber Arts sock yarn that I got at MD Sheep and Wool: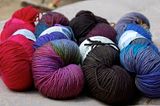 I think the first socks I make from this stuff are going to use that bright red/pink yarn (the color is called Lovers Leap, and as soon as I saw it I knew it was perfect for CBtE), and I'm going to use the stitch pattern from these Froot Loop socks, with modifications to fit CBtE's foot.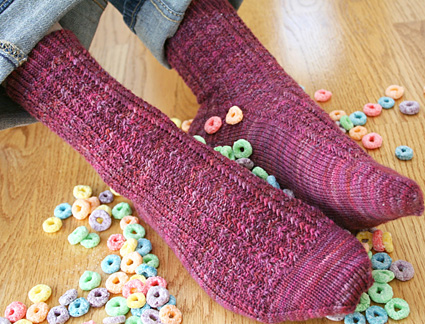 Yes, he really likes those colors… 🙂