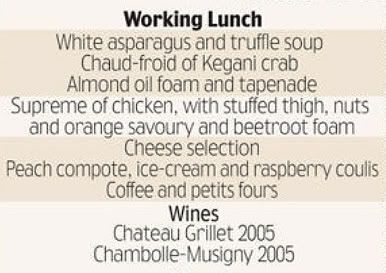 This is populism at its worst: the menu over which world leaders are discussing world poverty, starvation, and the present global food crisis. Thanks to Huffington Post for noticing this travesty.
Summit that's hard to swallow – world leaders enjoy 18-course banquet as they discuss how to solve global food crisis
By James Chapman
8th July 2008

Just two days ago, Gordon Brown was urging us all to stop wasting food and combat rising prices and a global shortage of provisions.

But yesterday the Prime Minister and other world leaders sat down to an 18-course gastronomic extravaganza at a G8 summit in Japan, which is focusing on the food crisis.

The dinner, and a six-course lunch, at the summit of leading industrialised nations on the island of Hokkaido, included delicacies such as caviar, milkfed lamb, sea urchin and tuna, with champagne and wines flown in from Europe and the U.S.
If you can stomach it, read the rest of this blurb HERE.