Welcome back.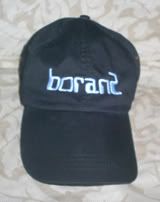 This week we will be continuing with the (West) Cape May, New Jersey Victorian house. The photo that I'm using is seen directly below.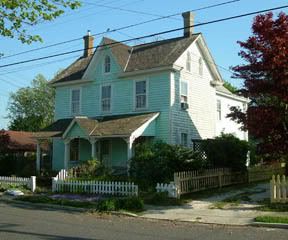 I am doing this piece in my usual acrylics and, once again, in an 8×10 format on stretched canvas.
When last seen, the painting appeared as it does in the photo directly below.
Since that time, I have continued to work on the painting.
I have started painting in the body colors of the house in shades that will reflect the final appearance of the structure. As such, the shaded front of the house is painted blue, the lit side is in white.
The roof, in a transluscent layer of paint here, will be a gray color with shadows added later on. I have also added a similar layer of paint to the roof of the building to the extreme left and the roadway in front of the house.
This juncture does provide for a very interesting abstract image, almost like a photographic negative. (For those of us who can recall film cameras.)
The current state of the painting is seen in the photo directly below.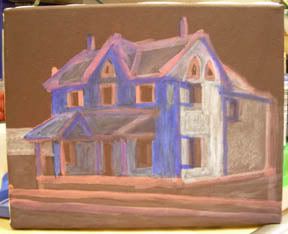 Before concluding, as requested, seen directly below is the previous painting placed in a frame.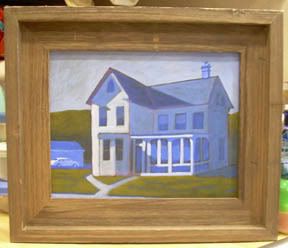 That's about it for now. I'll see you next week with more progress. As always, feel free to add photos of your own work in the comments section below.