Hello again painting fans.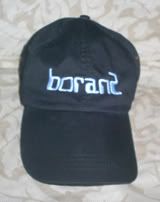 This week I'll be continuing with the shadowed Cape May house. I will be using the photo seen directly below.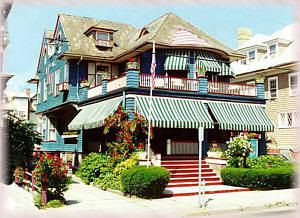 I will be using my usual acrylics on a somewhat larger 8 by 8 inch gallery-style canvas.(This is a thicker canvas similar to the one used in the towered house.)
When last seen, the painting appeared as it does in the photo directly below.
Since that time, I have continued to work on the painting.
I'm approaching this one a bit differently and have attempted to establish the shadowed and highlighted areas at this early phase. Accordingly, I have layered dark blue paint in the shadows and a much lighter blue in the lit sections. These areas will probably change slightly over the course of this process.
I've begun the roof, first with a layer of ochre, then a layer of a rose colored paint. Why rose you say? I wanted red and rose was the first tube that I pulled from my box that was fairly close. And I wanted to experiment. This color will also change in the coming weeks but provides a good start. Excess ochre found its way into the bushes below.
Finally, I've begun the rough outline of the structure next door, seen in blue.
The current state of the painting is seen in the photo directly below.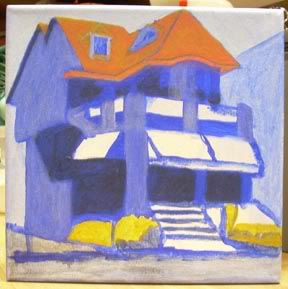 That's about it for now. Next week I'll have an entirely new piece to show you. See you then. As always, feel free to add photos of your own work in the comments section below.
Earlier paintings in this series can be seen here.