Last night, in the Sunday Night Mixed Bag thread at Howard-Empowered People, I noted:
By the way, I was reminded, when I went to visit the "About the Chairman" page, that a week from today will be Howard Dean's one year anniversary as Chair of the DNC. We should do something nice for him.
Some people have offered suggestions here, the most obvious choice being that a lot of us buy Democracy Bonds on that day.
I think that's a great idea, especially given all the garbage stories that are always being circulated about fundraising being down because of Howard. I also think this deserves to be an interblog effort, so I am crossposting this far and wide, I'm going to put up a brainstorming thread under this image over at Howard-Empowered People. It will be in the left sidebar.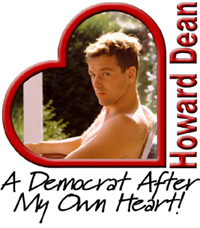 Since anyone can comment without having to log in for an account, it seems like a convenient way for us to share our ideas/pool our resources, etc. (And we have a dedicated team of troll stompers in the event that people show up to trash Dean rather than offering ideas.
Yeah, I know some people say that isn't free speech, or it's stifling dissent, or some such thing. But honestly, if we were planning a birthday party for Uncle Herbert , would we put up with people wandering in off the street just to say, "Uncle Herbert's a jerk!" So, we're just not going to put up with that kind of nonsense.
By the way, I've asked Demetrius to come up with a special anniversary graphic that we can use, but until he gets a chance to do that, we're going to use the one you see above. 'Cause I like it.
And besides, it's seasonal. 🙂