Happy Sunday afternoon! When I posted pictures of my latest knitting project in the cafe, I got enough responses from other knitters that I thought it might be fun to do a knitting diary, so here it is (you can click on the pics for larger versions)…
This was the first time I ever tried knitting socks, and I used this cool mostly bamboo fiber Panda Wool yarn from Crystal Palace Yarns and this free sock pattern by Cookie A. It wasn't as confusing as I thought it would be, doing the heel turns and stuff. I have finished sock the first (including the Kitchener stitched toe – I had forgotten how tricky that could be):
As you can see, sock the second is nearly done as well, and I'm probably going to finish that up tonight or tomorrow: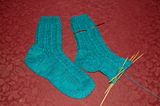 I picked another quick little project to do next: this Wavy Gray hat, but instead of the Kureyon yarn, I got Noro Silk Garden ; the Kureyon just seemed a little scratchy to me. Here's the color (Noro yarns has really interesting colorways, but this is one of the tamer ones):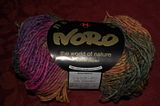 Of course, after knitting the sweater below in Mostly Merino, most wool would feel scratchy. This sweater was the second sweater I've knitted with their worsted weight yarn, and it really is nice to work with and wonderful to wear.
So, what's on your needles? Have any favorite yarns, patterns, or suppliers you want to share?
Pictures and/or links are welcome!